Officiel site : www.briegel.org
When brothers Nathanaël and Cyrille Briegel created BRIEGEL BROS BAND (www.briegel.org) in 1989, along with five other musicians (they sometimes play as an octet as well), they deliberately decided to play their own idea of Jazz based on even rhythm rather than swing as most Afro-American Jazz is. Even if they are essentially inspired by the Latin-American sound, their music can't be characterized as Latin Jazz.
During the 70's, Jazz Rock leaded the way to all sorts of styles mixes, proving that every music with popular or traditional roots, coming or not from the American continent could be "jazzed".
The pace of Cuban, Brazilian, flamenco or funk music is the base of the band's originality. Their compositions, very different in style, are a melting-pot of colours, rhythm and festive attitude which make them stand as accessible tunes for everyone despite the fact they are used as a basis for the most daring improvisations.
BRIEGEL BROS Band's Jazz is based on the richness of even rhythm. This "neutral" pulse is rich as far as it allows the construction of very different atmospheres throughout an all set of songs and leave enough space and freedom to integrate and blend elements from very distinct musical genres. The way the musicians from this band worked on those bases brings homogeneity to this varied and electric repertoire.
Unclassified in style, this U.M.O. (Unidentified Musical Object) called B.B.B. writes an elegant, personal and originally rare music. They are one of the most exciting and innovative formations of the new Jazz scene to which they contributed when it first started about fifty years ago.
Reference Points :
Since it was created, B.B.B. has played several hundreds of concerts in Europe and Asia, in different famous towns, festivals and clubs…
At the end of a tour under the aegis of the French Institutes of Germany, they record their first album "Voyage En Eaux Troubles" (produced by the Lorraine-based label E.M.D.).
In 1996, the French Music Office (F.M.O.) of New York selects the tune "Play Ballads" to be part of a compilation representing French Jazz aimed at festivals and clubs managers as well as the American media.
After several concerts in Poland, Japan and Romania the band record their second album "Détours" in 1998. The formation is now composed of the Briegel Brothers with Philippe Leclerc on saxophone, Jean-Marc Robin on drums and Yvon Susini on percussion. Since April 1999, the date it started to be on sale, he has generated laudatory critics and numerous concerts in France, Scandinavia, Central Europe…
In 2001, the excellent bass player "Apollo Munyanshongore" replaces "Cyrille" that his emotional life led towards extreme-Eastern skies to Taiwan (2005) and who remains nevertheless the "brother", which composes, arranges, sends his Bass solos via Internet and on the occasion takes the plane for a concert tour, like the tour in Norway and Sweden in autumn 2002.
In spring 2006, recording of the third album "CoErrances" which will appear in autumn 2006.
But fine of spring 2006, "stupor" to the Briegel's country, but also of all the musicians and not-musicians of label EMD: death came to break eight years of artistic complicity, of major friendship with a brother, a comrade, an impetuous, lyric, generous musician and put an brutally end to their common artistic projects. The concert of the BBB programmed by edition 2006 of NANCY-JAZZ-PULSATIONS will pay a vibrating homage with guests to him...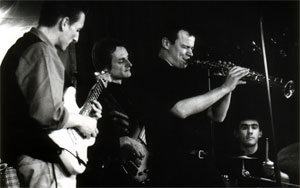 Eivors Hörna in Pitea - Sweden (2000)
MAIN CONCERTS between 1990 and 2003
Germany : Stuttgart , Essen, Darmstadt, Munich, Erlangen, Aachen, Erfurt, Berlin, Dresden, Kiel, Rostock, Hannover, Mainz…
Austria : Salzburg, Graz, Vienne…
France: Jazz Festival & Café des Arts in Mulhouse, Jazz Festival of Commercy, Trinitaires in Metz, Guitar Festival in Vittel, MJC Pichon, Festival Nancy-Jazz-Pulsations & Jazzforum in Nancy, The Griot in Strasbourg, Duc des Lombards & Sunset in Paris, Flâneries Musicales in Reims, Jazz Festival of Munster, Jazz-Club in Chambery, Jazz Festival in Draguignan, MJC Picaud in Cannes, Café Theatre de la Porte d'italie in Toulon, IMFP in Salon de Provence, Espace Julien in Marseille …
Japan : Tsugawa, Tokyo, Kanazawa. Netherlands: Amsterdam.
Poland : Legionowo, Varsovie, Rzeszow, Lublin, Lodz, Radom, Zamosc, Katovice, Cieszyn, Rybnik, Wroclaw, Torun…
Czech Republic: Praha, Ostrava.
Romania : Bucarest, Iasi. Slovenia: Maribor, Ljubljana….
Sweden : Hallsberg, Stockholm, Växjö, Piteĺ, Umeĺ, Luleĺ, Helsingborg , Börlange…
Norway : Oslo, Stavanger, Bergen, Haugesund, Trondheim, Lillehammer Jazz Festival..
Moldova : Chisinau. Slovak Republic: Bratislava …
Hungary : Pecs, Budapest, Debrecen Jazz Festival, Eger, Miskolc…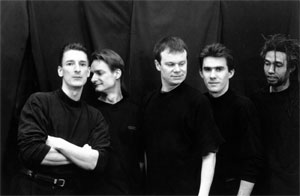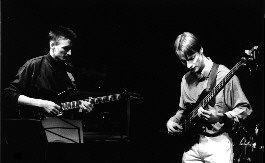 Lavoir Théâtre in Epinal - France (1996)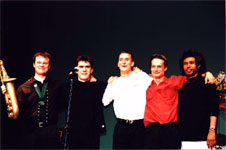 Geijutsu Hall in Kanazawa - Japan (1998)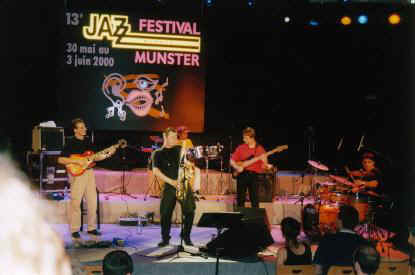 Jazz Festival of Munster - France (2000)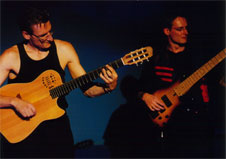 Iasi in Romania (2000)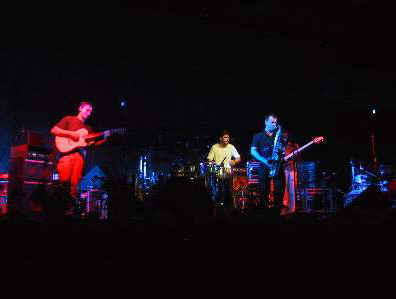 Jazz Festival of Debrecen - Hungary (2001)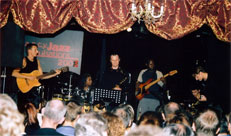 Nancy-Jazz-Pulsations octobre 2003