Christophe "Mayo" HUBERT Rhythmic Guitar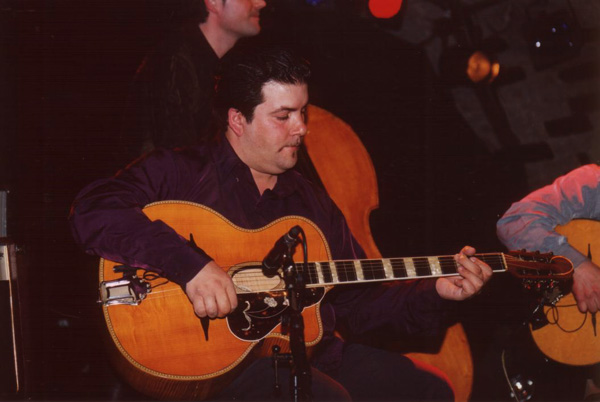 Born on May 18, 1977 in Sarreguemines, Christophe picks up the guitar at 12 with Antoine Haag and the very famous Tchavolo SCHMITT.
He gave his first public gig at age 17 in Strasbourg with the band 'Sinti Swing' along with Jordan Loefler, Martial Lloefler and Fistan Loefler. In jazz, he particularly appreciates Django Reinhardt, Bireli Lagrene, Dorado Schmitt and Tchavolo Schmitt who particularly influenced him (by the way, Tchavolo is the main actor of Tony Gatlif's last film 'Swing', issued in 2002). In what concerns mainstream music, he also appreciates Charles Aznavour, Sacha Distel, Juliette Reno, and Henri Salvador. All these artists have a common point, they appreciate and use jazz as a basis to compose their songs.
Since he started working as a professional musician, 'Mayo' Christophe Hubert has played with the following bands:
- 1990 to 1992 Hubert Stephane, Hubert Eddi, Haag Jean-François, Haag Antoine, Haag Michel, Tchavolo Schmitt.
- 1993 to 1995 Samson Schmitt, Timbo Mehrstein, Weiss J-Luc, Bambino.*
- 1996 to 1998 Yorgi Loefler, Dino Mehrstein, Haag Jean, Rudy.
- 2000 to 2001 Dorado Schmitt, Tchavolo Schmitt, Samson Schmitt, Timbo Mehrstein.
Among all the festivals he played to, we could quote 'Appona' in Strasbourg in 2001.
Thanks to his great technical and artistic qualities, his reputation reached Samson Schmitt – who has just realized the splendid album 'DJIESKE' (published in November 2002 he's been welcomed unanimously as a great album). In January 2003 he joined 'Samson Schmitt/ Timbo Mehrstein Gypsy Jazz Band' and his career has merged with that of the orchestra ever since.