JEROME HULIN
Percussions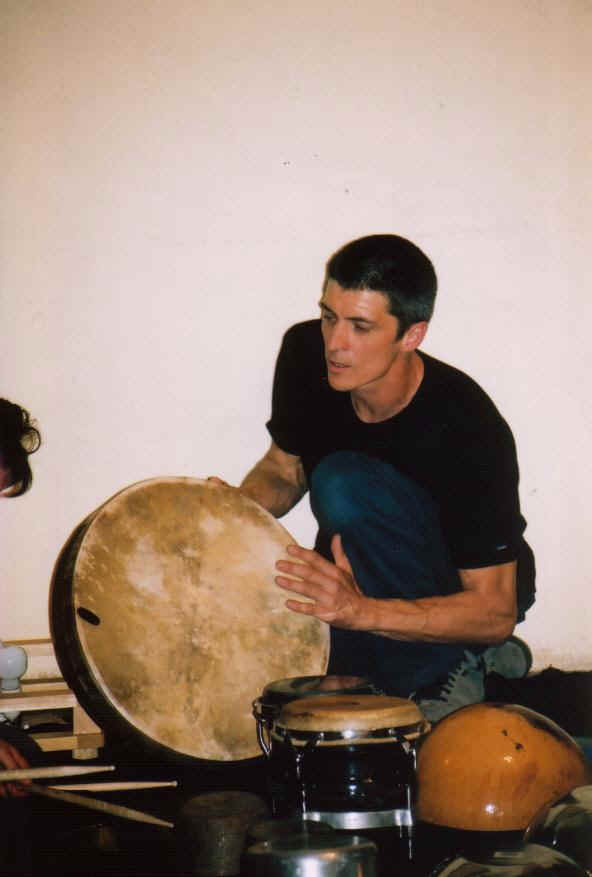 Born in Paris in 1960.
Musical education and training
- 1980 to 1985: Avignon Conservatoire. He also studies African percussion instruments. From 1991 to 1998, he continually trains with African Master who …… in Europe. In November 1998, he follows a musical training during a month in Bouaké, Ivory Coast with the Drums Master SOUNGALO COULIBALY.
- January 2000: Training in BAMAKO (Mali)with SEGA SIDIBE. Since September 2000, training with AMARA KANTE (Guinea).
Music
1987: he animates several African dance training sessions in Germany and in France.
1988: he is a member of 'TOUBAB', a percussion instruments duo: local concerts, La Défense contest, a few first parts (Henri Texier, Harris Sokal).
1989: Black Idea's member (World Music)
Since 1990: several concerts with local bands: Caraca (Brazil), Pascal Parisot et les Indisponibles (P. P. and the Unavailable Ones, French songs), Kalilembé (African percussion instruments), etc…
May 1996: he joins Chass'Spleen.
1997: he takes part in the KOALA Percussions Ensemble octet.
1998: he plays with Guarana and Farafi percussions mandingues (percussion all ycrazy)
1999: concert with the Kilimandjaro Blues Band. He takes part in the creation of 'La nuit du Feu' (Fire Night) in Vannes-Le-Châtel with Tumkatak percussions urbaines (urban percussion instruments). With Les Elastonautes and Tumkatak, he plays for the opening of the European elections in Cologne. He is also a member of the 'Que Bossa' Bossa Nova trio.
From November to December 1999: 20 shows with Kalimba.
Mars 2000: he tours in Burkina Faso with the Kilimandjaro Blues Band and plays with them for the Crossbred Musics festival in 2000 and 2001. He performs with Guarana (Brazilian music), and Farafi (Africa). He is the percussionist on David Fanshaw's 'Africa's Sanctus' (opera for a choir, tape and percussion instruments) in the Nancy Salle Poirel. He creates, along with Jacques and Odile Tellitocci, 'Instrumentarium' (improvisation on reprocessing materials). He also composes the music for 'Parole de Pays' (Country's word').
In 2001, he forms the 4 percussion instruments band with Michel Deltruc, Charlie Davot and Jacques Tellitocci, to answer an order by the EMD label. The work will be created as a part of the Jazz Forum program in Nancy (Forum-Irts) and in Metz (Trinitaires Cellar) in May 2002.
Discographie
1990 : Percussions sur le Cd de Kilimandjaro Soul Blues band
1997 : Participation au Cd "Le silence des Cygnes" de Materia Prima"
1998 : "Afreeka Grass" Cd 4 titres des "Free Confits".
1999 : CD 4 titre Que Bossa
2000 : CD live GUARANA