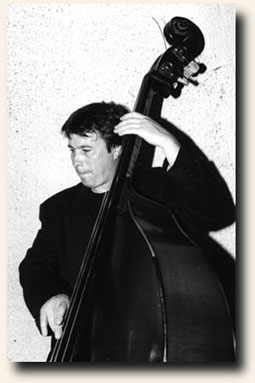 Christophe Le Van
Double bass
Born in a family of musicians, he starts playing with his father (a pianist) and his brother (a drummer) at a very early age. He becomes a professional at 24 after having completed medicine school.
He very soon has the opportunity to play with great jazz musicians.
He is now considered as one of the best French double bass players and has played with great jazzmen such as Sonny STITT, Joe NEWMAN, Art FARMER, Eric LELANN, Joe DIORIO, Dee Dee BRIDGEWATER, Chet BAKER, Clark TERRY, Johnny GRIFFIN, Tommy FLANAGAN, Horace PARLAN, John HENDRICKS, Didier LOCKWOOD, Lee KONITZ, Sonny GREY, Christian ESCOUDE, Chris WOOD, Michel PORTAL, Peter KING, Michel LEGRAND, Bobby PORCELLI, Michel PEREZ, Gérard BADINI ...
Figuring on a dozen CDs, he also takes part in many TV shows with Gérard Badini's Big Band.
In 1998, he regularly performs with Dee Dee BRIDGEWATER, André CECCARELLI, etc…