Etienne « Timbo » Mehrstein
Violin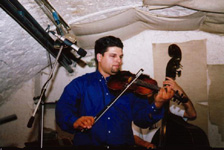 Born on April, 8th, 1977 in Forbach. He starts playing the violin with his uncle Storo Mehrstein who teaches him the tzigane style and with Dorado Schmitt, playing this time in the gypsy idiom.
He plays his first gig at 14 with the Samson Schmitt / Timbo Mehrstein Quartet in Strasbourg at "Le Café Des Anges" (the Mecca of jazz in Strasbourg during the 90's).
"Timbo" particularly appreciates Stéphane Grappelli, Robbi Lakatos, Dorado Schmitt, Bireli Lagrene, Henri Salvador, Juliette Renauld and Paganini's music played by Yehudi Menuhin.
According to him, his influences are Stéphane Grappelli, Didier Lockwood, Dorado Schmitt, Florin Nicolescu.
He's been playing lots of gigs since 1993, for instance, the gypsy and tsigane festivals in Mont-de-Marsan (1994), Strasbourg (1994, 1997, 1998, 1999), Munich (Germany, 1995), Ile d'Oléron (1996), Angers (1997 and 1999), Vincennes (in 2000), the international festival of guitars in Patrimonio, (Corsica, 2001). He also played at « Duck des Lombard's », Paris, in December, 2002, at the Django festival in Oslo (January 2003) and at the Sons d'Hiver festival in February 2003). He also gets requested as a teacher.
He's connivance with Samson he's been accompanying as a soloist for over 10 years is one of the keys to the oneness and creativity of the band. The album they recorded in 2002, "Djieske" is the outcome of this magic.
"Timbo" is accepted as one of the most promising violinists of his generation ( read the articles about "Djieske").