Samson Schmitt
Guitar, composition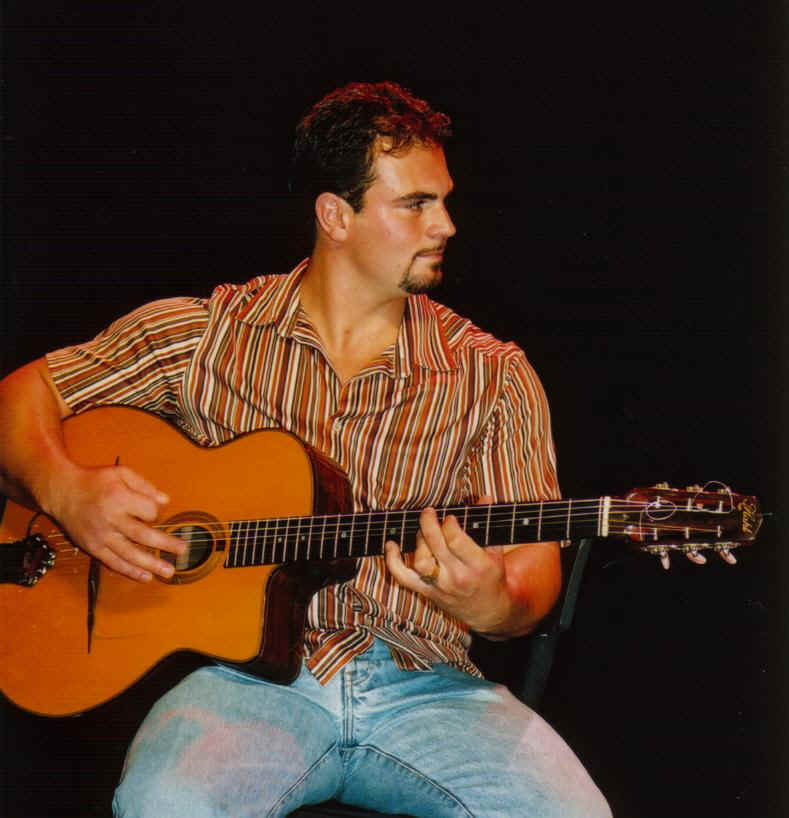 Samson Schmitt
Born on September 20, 1979, he first learned how to play guitar with his father Dorado. He plays in public for the first time at 12 at the International Jazz Festival in Munich, Germany. This concert is an opportunity for the Gypsy children of the new generation to play together on the same stage, with Timbo Merhrstein on violin and Yano Scordo and Jouani Scordo on rhythm guitars.
In jazz, Samson particularly appreciates Luis Salinas, Stochelo Rosenberg, Dorado Schmitt, Jaco Pastorius, Didier Lockwood, Diana Krall, Ella Fitzgerald, Barry White, Stevie Wonder, Billi Paul as well as the groups The Wispers and the Bee Gees.
He claims to be influenced by George Benson, Richard Galliano, Bireli Lagrene, Toots Thielemans, Florin Nicaulescu, Didier Lockwood, Sylvain Luc, Dominique Di Piazza and Angelo Debarre.
From 1990 to 1999 he played with the Dorado Schmitt Quintet, the group Kakiweiss (rhythm guitar) and with Hono and Gino Reinhardt.
In 2000 and 2001 he played with Alexandre Cavalieres, Tchavolo Schmitt, Povro Sinto, Angelo Debarre (Corsican Trio), Jimmy Rosenberg and with his own group the Samson Schmitt Quartet.
He has played in many festivals between 1994 and 2001, including the Sinti jazz Night in Munich, Germany, Jazz Sur le Feu in St. André les Vergers, the Gipsy Swing Festival in Angers, the Festival Manouche Appona in Strasbourg, the Festival of Espace Pompidou in Vincennes, France. He participated in the Nuits de la Guitare in Patrimonio, Corsica where he invited Dominique Di Piazza (July 2002) and in the Festival Sons D'Hiver in Paris (2002) invited by his father Dorado Schmitt.
In April 2002, he records his first CD "Djieske". It was published in october 2002 and was rewarded for the "FFF Telerama" and "3 stars in Jazzman" as well as other distinctions.
Since 2002 (in 2007 il will be the 5th time) he plays with Dorado at the « Django Week » at « Birdland » in New York, performs with the saxophonist / clarinettist James Carter and the guitarist Georges Benson as well as Angelo Debarre or the clarinettist Ken Peplowski. In 2004, a film was made which render well the mood of this « Django » festival.
From 2002 untill today, he travells around the world (USA, Europe, Japan, China) with his own Gypsy Jazz Band, without forget to be often with his father Dorado at the main jazz festival (In USA : Chicago, San Francisco, New-York, Washington, In Europe : Samois, Sète, Liberchies, Marciac, Juan-les-Pins, Vienne, Patrimonio, Fribourg, Oslo, Rjiswijk, …).
In November 2002 he was invited, with Dorado, to the Django Reinhardt Festival at the Birdland club in New York, giving him the opportunity to play with Paquito D' Rivera, James Carter and George Benson.
In 2005, appeal to play with a band of young gypsy jazz guitarist « les enfants de Django, nouvelle génération » (Django's children, new generation) with Yorgi Loeffer, Mike Reinhardt and, as sideman, Mayo Hubert, Gigi Loeffler and Jean-Luc Miotti on the double bass. A CD is made at the « Meridien » (Paris) during the JVC festival in Paris.
In 2006, he recorded his second album « Alicia » (always on EMD) with his friend Timbo Mehrstein on the violin, the very good Mayo Hubert on the rythmic guitar, Gautier Laurent on the double bass ans guess as Ludovic Beier on the accordions, Nathanaël Briegel Briegel on the guitar (who is the artistic director too) and for the first time Samson's young brother, Bronson Schmitt. Ten tracks on fifteen are new. It is available since February 2007.
As was the case for the "Djieske" album, the critics are very laudatory.
Discography :
As leader :
DJIESKE de Samson Schmitt Quintet featuring Dorado Schmitt (EMD0201)
RENDEZ-VOUS de Pierre BLANCHARD et Dorado SCHMITT (Harmonia Mundi le chant du monde)
ALICIA de Samson Schmitt / Timbo Mehrstein Gypsy Jazz Band (EMD 0701)
As Guest :
Rendez-Vous (Harmonia Mundi Le Chant Du Monde) by Pierre Blanchard and Dorado Schmitt
Compilations :
2006 « Jazz Manouche volume 2 » (Wagram music)
2007 « Jazz Manouche volume 3 » (Wagram Music).
2008 « Jazz Manouche volume 4 » (Wagram Music).
2009 « Jazz Manouche volume 5 » (Wagram Music).
2010 « Jazz Manouche volume 6 » (Wagram Music).
2011 « Best of jazz manouche » (Wqgram music)