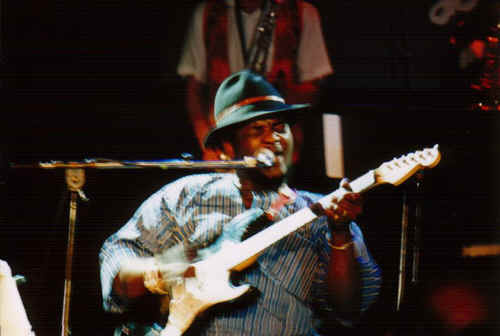 How Abraham got to blues
There is nothing pretentious at all about this music. It is the real thing ! The music of a man who has come full circle to the blues, the pure sound of a voice and guitar, backed up by a solid group of musicians for over 15 years.
Together with his band Kilimandjaro has shared the stage with LUTHER ALLISON, MACEO PARKER, CAREY BELL, LOUISIANA RED, ETTA JAMES, B.B KING - all to great acclaim! "KILIMANDJARO" ABRAHAM with his imaginative playing and his love for improvisation always hits the audience like a bolt of lightning.
The drive of the band has a lot to do with the drive of Abraham. He is at his best when he is on stage. He lives for it. His music is Blues and Soul. There is seemingly command of power in his playing and his voice has same strength that you can hear in Muddy Waters. In his heart and soul he is committed to this music - you can hear it in every song.
"KILIMANDJARO" ABRAHAM S. YAMEOGO comes from Burkina- Faso - the rhythm of his land is in his blood. He grew listening to the traditional folk music of his people and fell in love with music itself. He began playing at dances and public festival. He traveled to France where he put his first groups. Playing what most self- taught musicians play: Rock 'n' Roll.
Some time later he returned home to Burkina-Faso where he discovered Reggae which had just burst upon the scene. Searching for the roots of all these musical evolution Abraham found the Blues which he plays with a passion and an urgency that can not be denied.
Jean-Paul GERMONVILLE
Since 1983 KILIMANDJARO performed on many stages through:
France, Switzerland, Belgium, Burkina-Faso, Italy, Senegal, Germany, Brazil, Africa...
Discography:
Soul-Blues Band (inak 9030 Cd)