Jean-Marie Viguier
Guitars, composition, arrangements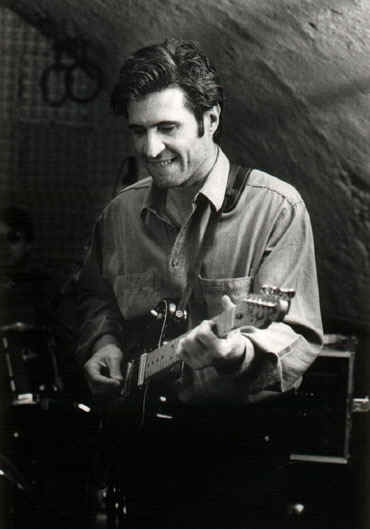 Born in 1953 in Oran (Algeria), he begins his career by playing with Charlélie COUTURE and recording two records with him: '12 chansons dans la sciure' ('12 songs in sawdust') and 'Le Pêcheur' ('The Fisherman'. It can also be translated as 'The Sinner'). That same year, he completes his medical studies and passes the entrance examination for hospital work.
In 1980, he plays with Pierre Eliane (album: 'Car il faut plaire' ('As we must be liked'). He joins the modern jazz band 'Agapao' in 1982, then founds 'Mister Bird' (electro-jazz) in 1985, both bands having won the Concours National de la Défense (National Contest of La Défense). At the same time, he passes his medicine thesis and obtains the psychiatry diploma, while attending to a jazz training at the CIM in Paris with Pierre CULLAZ.
He begins practising psychiatry at the hospital in 1986. While doing his job, he starts teaching the guitar in 1989 at the CMCN which will become Music Academy International in 1996. At the same time, he contributes to pedagogic files published in the review 'Guitare & Basse'.
In 1991, he founds the Etonnants Messieurs Durand (Amazing Misters Durands) label with Dominique Simon and Michel Cunin, which produces his first album 'HOT SAND', released in 1992. He starts the 'Sable Chaud' (Hot Sand) band at the beginning of 1992 when his CD 'Hot Sand', produced by the EMD label and distributed by Média 7.
'Sable Chaud' perform regularly as a quartet and as a quintet: Vittel Guitar Festival, Commercy Jazz Festival, Spina Jazz, A Thousand Jazz Concerts, Nancy Jazz Pulsations, Le Dunois, Musicora, etc… and record a new CD entitled 'Sage…' on EMD in 1996.
In 1992, he also starts playing with the ORJL (Regional Jazz Orchestra in Lorraine – Shake Orchestra), of which he becomes the assistant artistic supervisor in 1994 and the artistic supervisor in 1998. With this orchestra, he records two albums in 1999: 'Angustia d'amour' (….. ) and 'The Duke and Us' on the ORJL's label.