Dorado Schmitt, Guitar, violin, composition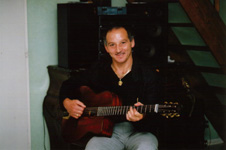 Just say the name of Dorado SCHMITT, to make the gypsy jazz lovers kill themselves! This manouche guitar legend (born in Forbach, Lorraine, France) was revealed to the general audience thanks to the "Latcho Drom" movie, telling the real story of the Rom people moving from India to the Atlantic and Mediterranean coasts, that he created the Original Soundtrack.
He was born in St-Avold, Lorraine, on May 29th, 1957. Raised on traditional music within his family, he's been surrounded by musicians throughout his youth. Dorado picks up the guitar at age 7. Around 15/16 years old (we're in 1962/1963), his preferences go towards pop and rock music played by Santana or Jimmy Hendrix… But his tastes, as good as they are, clash with the influence of his father's and with the Great Django's music. He studies his style in minute detail by playing all of his songs. He creates in 1978 the 'Dorado Trio' with fellow musicians Gino Reinhardt on double bass and Hono Winterstein on guitar.
From then on, this trio will keep on playing together. Unfortunately, Dorado is hit by a tremendous car accident on February 23rd, 1988. He will stay in a deep coma for 11 days. His career could have stopped there, but by sheer willpower and thanks to two months and a half of physiotherapy, he will form his band again in 1990. This 'new' Dorado now plays the violin as well as the guitar, practising both with the same energy. This makes him an outstanding musician.
Dorado is a gifted guitarist and inspired violinist who surprised everyone who ever got the occasion to listen to him during concerts or jam sessions by his ease, his creativity and virtuosity, and last but not least his modesty and generosity. In this regard, Dorado stands as one of the most demanded gypsy jazz artists in the business, playing with musicians in this style all over the world. It's not long before managers of big festivals, in particular in the U.S., realise the genius sideman has enough talent of his own to blow the audience down and be on top of the bill… He will not stop touring from the mid 90's.
He left some marks such as two vinyls, with Claudio Favari or Wedeli Köhler, compositions who everyone covers: "Bossa Dorado", the hit track "Natacha" (played by The Rosenberg Trio, his friend Tchavolo, among others) and recorded albums as lead: "Parisienne" , "Gypsy Friends" or more recently "Djieske", his son Samson's first album in which he accompanied and composed several titles.
In 2001, during the Django festival of Luttre-Liberchies, hometown of Django Reinhardt, he won the Django Award. He also literally blew down the people who came and saw him to the 'Sons d'Hiver' festival in 2002, playing countless amazing solos, explosive rhythmics with a communicative joy. In spite of the stardom he got, Dorado still experiences other projects. Indeed he co-formed a new 'gypsy trio' with guitarist Christian Escoudé (with the sorely missed Babik Reinhardt). As well, he represents French gypsy jazz every year since 2001 in New-York during the Django week at Birdland (together with Angelo Debarre and the Ferré brothers in 2001 and Paquito D'Rivera, James Carter and Dorado's son Samson in November 2002 and 2003. For the occasion George Benson joins him for an amazing jam session). He also toured a lot with Bireli Lagrene in the summer of 2002.
His son Samson often accompanies him and turned out to be a brilliant and talented musician. Lots of gigs are forecasted in 2003/2004 in France, Germany and Japan as well as in the biggest festivals of the U.S. (Chicago, San Francisco, New York, and Washington).
Dorado stands as the great poet of gypsy guitar, no surprise then Dorado means golden…
Discography:
- Hommage à la romanes (vinyl) 1983 / Leico Records / LC 7707
- Notre histoire (vinyl) 1986 / Blue Flame / LC 8593
- Gipsy Reunion - with Patrick Saussois and Tchavolo Schmitt Djazz Rec. Dam
- Parisienne - with Stan Laferrière, Gino Reinhardt and Hono Winterstein Djazz Rec. Dam
- Latcho Drom (movie soundtrack) chez La Bande Son/Virgin
- Djieske of Samson Schmitt featuring Dorado Schmitt 2002 / EMD 0201
- Rendez-vous - with Pierre Blanchard on violin (Le Chant du Monde / Harmonia Mundi)
- DORADO SINGS - Dorado Schmitt 5 Tet with Pierre-Alain Goualch on piano, Ludovic Beier on accordion, accordina, Gautier Laurent on double bass and Franck Agulhon on drums (EMD 0501)