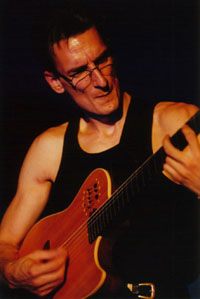 Nathanaël Briegel
Composition, acoustic & electric guitar
Born in 1964, he studies guitar at age 15 with J.C. Jones, René Bosc and Gérard Marais. Two years later, he plays with several bands and teaches at the Jazz Action Montpellier school of music.
In 1983, he studies at the Guitar Institute of Technology of Los Angeles with Scott Henderson, Joe Diorio and particularly with Frank Gambale, a new technique called Sweep Picking. In the same period, he performs in numerous L.A. clubs. Graduate from GIT with special mention Jazz and Fusion in 1986, he plays with Japanese singer Keiko Sugaï and works in recording studios as guitarist and drum machine programmer.
Back in France in 1988, he founds a Jazz Guitar duet with Jean-Marie Viguier called Out to Lunch. In 1989, he founds the Briegel Bros. Band with his brother Cyrille and teaches at the Centre Musical et Créatif de Nancy School of Music, in charge of the Sweep Picking and Fusion programs. In 1992, he joins J.M. Viguier's band Sable Chaud, and in 1994, become a member of the Jazz Big Band Shake Orchestra.
Since, its career is associated with Briegel Bros Band's and the trio Catalina founded in 1997 with his brother Cyrille and the percussionist Yvon Susini.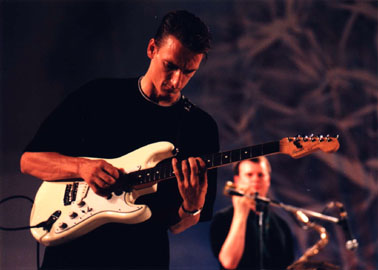 In 1999 he records BBB's 2nd CD "Détours", distinguished by 3 stars in the French Magazine JAZZMAN). The band tours in Japan and all over Europe (Germany, Czech Republic, Slovenia, Sweden, Norway, Romania, Moldova, etc.)
In 2000, he founds with three Lorraine guitarists the guitars quartet "4 Guitars Only" whose 1st creation will be played within the framework of the concerts programmation of IRTS de Lorraine and EMD, in Nancy and to "Trinitaires" in Metz, in April 2001. In parallel the concerts continue with Briegel Bros. Band: France in mars/avril 2001, Poland in April May 2001, Hungary in juin/juillet 2001, Sweden Norway in March 2001 and October 2002.
In spring 2006 he prepares a new record, CO' ERRANCES, third album of BBB (who will be published by EMD in autumn 2006).
Discography:
"Voyages en Eaux Troubles" EMD 9401
"Jazz from France 97" French Music Office New-York
"Détours" EMD 9901
"Sage" of Jean-Marie Viguier Trio EMD 9601
October 2006 "Co'Errances" (EMD 0602)