JACQUES TELLITOCCI
Percussions - vibraphon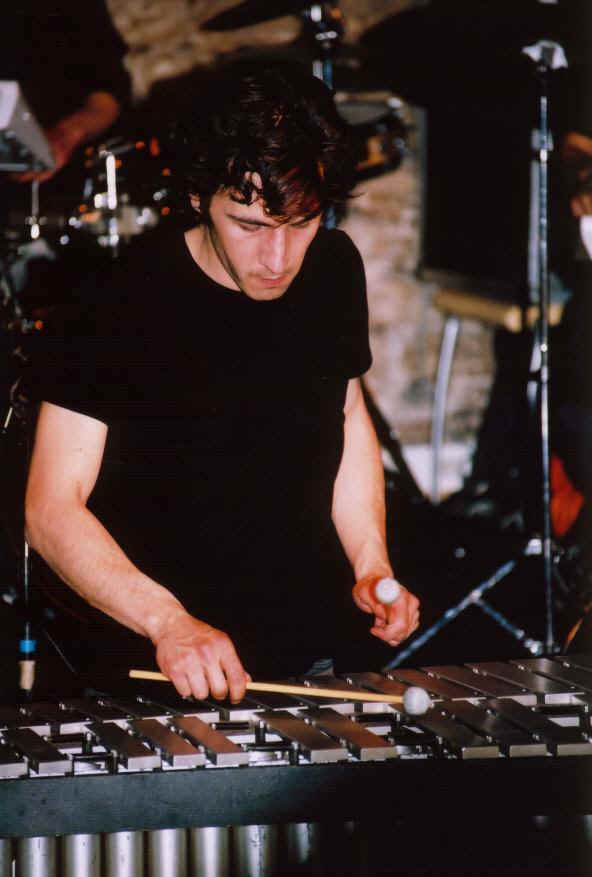 Born in 1969 in Villerupt, he starts studying music in 1988.
First Jazz prizewinner at the Luxembourg Conservatoire in Guy Cabay's, Erwin Van's and Jérôme Goldschmith's classes, his studies lead him to New York in the HARBORD PERFORMING SCHOOL as well as to HAVANA where he works with the chief drummer Mario JAUREGUI.
He begins his professional career in 1990 with the DALIA NEGRA Quintet with Alain Goualch, Diego Imbert and Franck Aghulon with whom he is still working in the 'SHAKE ORCHESTRA' (Lorraine Regional Jazz Orchestra).
Over the last ten years, he has regularly been appealed to by numerous artists in Jazz, Latin music, songs, rock, pop or electro for his talent as an improviser and an accompanist:
Bireli LAGRENE , Guy CABAY , Raul de SOUZA, Carlos WERNECK, CARNEIRO, MUKTA, Les ETOILES, Pascal PARISOT, KILIMANDJARO, VARIETYLAB, ORWEL, FUGU, NOTORIOUS, Le Professeur CHORON...
Musician with various talents and who tries everything, there is nothing surprising in the fact that he be Pascal Parisot's acolyte in a studio as well as on stage, in a universe made of crazy and barmy songs.
He joins the EMIL 13 collective noun in 2000 and then multiplies experiments clearing improvised musics through creations and 'Le Groupe EMIL' (the EMIL band) big band.
In 2001, he forms the 4 percussion instruments band with Michel Deltruc, Charlie Davot and Jérôme Hulin to answer an order by the EMD label. The work will be created as a part of the Jazz Forum program in Nancy (Forum-Irts) and in Metz (Trinitaires Cellar) in May 2002.
He also composes for his quintet or for 'Le Groupe EMIL'.
For the 26th edition of the Nancy Jazz Pulsations, he proposes a collective creation for a vibraphone trio with Franck Tortiller and Guy Cabay entitled 'Larmes de Jazz' (Jazz Tears).
In 2002, the 4 percussion instruments band's name is changed to 'Thermostat 8' or TH8 to their friends.