Samson SCHMITT / Timbo MEHRSTEIN Gypsy Jazz Band
with Dorado SCHMITT Special Guest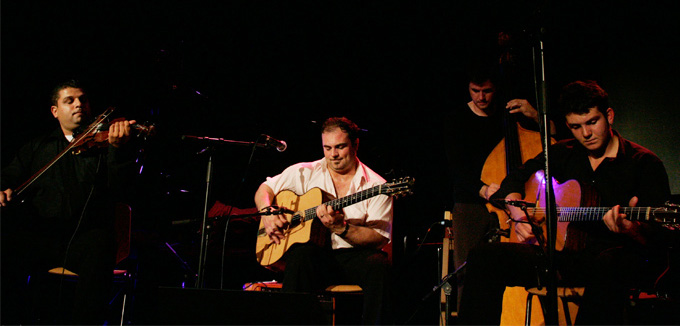 Forbach, a city located on the Franco-German border in the Lorraine region, is home of the most significant gypsy community in this region. Several excellent musicians have reached recognition in the "Manouche" and gypsy music world (which include all the musical styles of the "traveling people", gypsies, "Manouches" or "Roms")...

Some musical personalities were recognized beyond the local clans, Itís the case of Dorado Schmitt, Samson's father (author of part of the soundtrack of the movie "LATCHO DROM") who recalls the displacement of the Roms from India to the edges of the Atlantic ocean and the Mediterranean sea.

These last years, Dorado has been invited in most of the great jazz festivals in the world.

The characteristic of the "Manouche" music is to be essentially transmitted orally (just like the blues). Traditionally the style and the technique are taught with eyes and ears and do not await the "number of the years" to be expressed (the two soloists Samson and Timbo are respectively 23 and 24 years old)...

It results an outstanding instrumental ability because of a total dedication to the music they're actually playing.

Samson Schmitt and his album "Djieske" are representative of this transmission of the "manouche" musical knowledge within a clan, with his traditions and evolution, since three generations of artists are present there: the great Django Reinhardt, initiator of the "Manouche Jazz" style recognized by the music world as the most pertinent of the French jazz to the jazz world, Dorado SCHMITT, Samson's father and teacher, musical link between Django and Samson, and finally Samson who represents the present and future of this musical style.

Since 2002 he gives hundreds in concerts through the world and is the privileged guest, each year in November, of the Django Reinhardt New York Festival in the mythical "BIRDLAND"!

Starring 2008 click here