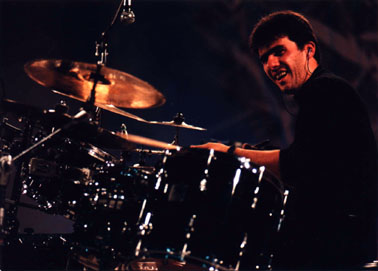 Jean-Marc Robin
Drums
Born in 1973, he studies with the basics of classical percussion, that will make him particularly sensible to the quality of sound.
In 1992, he obtains the first prize of percussion at the Conservatoire National de Région of Nancy (France) and is since 1996, the percussionist-drummer of the horns band Arcadia.
From there, he goes into Jazz and Funk, completing his learning in that area, at the Ecole Nationale de Cergy-Pontoise with the class of Georges Paczinsky where he obtains the first prize in 1996.
At the same time , he plays with the trio of the pianist J.M. Albertucci, with the vocalist Elisabeth Caumont, with the band Sable Chaud of J.M. Viguier and with the quartet of the saxophonist Franck Turpin.
Since 1991, he also teaches drums and percussion in various music schools in Lorraine.
His playing, characterized by both melodic and dynamic phrasing, expresses the importance that he gives to the swing.
He joins Briegel Bros Band in 1998, records with them in 1999 the 2nd CD "Détours" and tours with the band in Japan and all over Europe (Germany, Czech Republic, Slovenia, Sweden, Norway, Romania, Moldova, etc.)
In 2001 he creates the Trio Aura with Michael CUVILLON (saxophon) and Gerald MULLER (double bass). In 2002 he takes part to the Trio David Laborier with Jean-Yves Jung (Hammond organ) and the Trio of the guitarist Roland Gebhardt always with Jean-Yves Yung. In 2003 he rejoins the regional Orchestra of Jazz of Lorraine - SO2 Shake Orchestra. Among the musicians whom he accompanied we can quote: Daniel Kuffer, Sylvain Beuf, Bob Mintzer, Remy Chaudagne, Mikidach, Jimmy Oihid, Steckar Tuba Pack, Pierre-Alain Goualch, Laurent Gianez, Donald Régnier, Daniel Visani, Ernie Hammes, Diego Imbert, Jean-Marie Viguier, Valerie Graschaire,
In 2006, he participates to the new record of BBB Co'Errances" who will be published by EMD in autumn 2006.
Discography
1999 : Détours with BBB (EMD 9901)
2002 : Söyle with the pianist Murat OZTURK (Hemiolamusic)
2006 : Co'Errances with BBB (EMD 0602)